A building management system (BMS), is a control system based on a central station that controls and monitors the building's mechanical and electrical equipment, such as ventilation, lighting, energy systems, fire systems and security systems, using software and hardware.
Respecting BMS philosophy, WiseBuilding designs and implements intuitive and easy-to-navigate systems that allow the client to explore the building in a single system, on a single screen.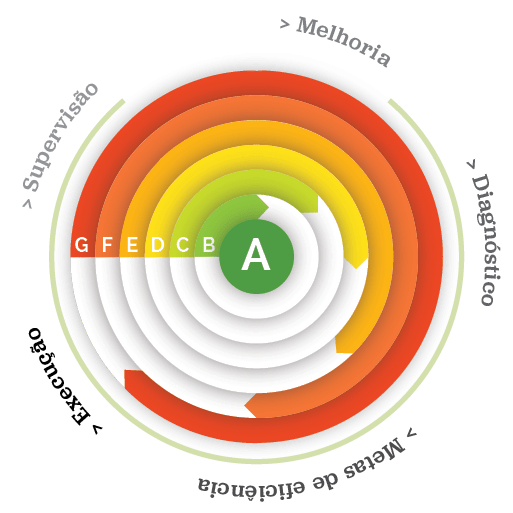 Each building is unique, both because of its location and use, and because of its operational needs. Thus, based on a Diagnosis it is possible to identify thermal/energy waste and outline Efficiency Goals, followed by the Execution of efficient programming routines that after Supervision should prove to be an Improvement. This process must be constant and continuous in order to keep the system always optimized and with high levels of energy efficiency.
WiseFramework is a software solution BACnet B-AWS certified for integration, control, manage and visualization of state-of-the-art automation systems for buildings. Designed to redefine the way buildings are operated through an open platform and seamless harmonisation between building-generated data by supporting multiple protocols, including BACnet, Modbus, KNX, OPC-UA and MQTT.Through the use of Haystack technology, the software also empowers buildings for the future with integration of several technical systems.
Building Management System
WiseFramework is based on a fast and optimised database for data processing and analysis which enables you to operate and monitor all types of devices and systems on the network in a wide range of applications from small and simple to very large and complex.
It includes features to allow easy creation of customised dashboards to each user and graphs/charts for buildings and equipment, with highly intuitive navigation that works synchronously on mobile devices using HTML 5 technology. It also has the potential to generate customised reports such as energy consumption, analysis of deviations in energy consumption, summary of faults and alarms, invoicing or document management and also support detection of faults in the installation in a predictive manner thanks to its data analysis capacity.
The great scalability of the software allows it to manage several facilities and enterprises simultaneously based on a distributed and cloud-ready architecture. thus adding value to applications that require flexibility. The cyber securitytechnologies implemented in the software guarantees the user greater security.
WiseFramework also provides the user with Wise2Cloud feature, which provides secure and encrypted remote access to data in real time, eliminating the need for a virtual private network (VPN) to reduce costs by browsing instantly, through any browser, from anywhere in the world, and allowing secure integration with third-party cloud applications.
Associated with this system is Wise Building / BrainBox AI, next generation technology that works as a cloud service improving the performance of existing HVAC equipment throug predictive and self-adaptive algorithmsusing artificial intelligence and cloud computing. .
The use of AI in buildings can reduce up to 40% in the carbon footprint generated by the building as well as up to 25% reduction in energy costs, up to 50% extension of equipment life and up to 60% improvement in occupant comfort.